The Vasectomy Reversal Timeline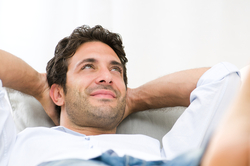 Dr. Larry Lipshultz can explain the vasectomy reversal timeline during a consultation at our Houston, TX, office. He uses advanced techniques to expedite recovery and provide restored fertility. To learn more about what to expect before, during, and after vasectomy reversal, contact our urology practice today.
Step One: Your Consultation and Treatment Planning
During your consultation, you and Dr. Lipshultz will:
Discuss why you wish to pursue vasectomy reversal.
Discuss any other factors that could be affecting your fertility and your partner's fertility, since alternative fertility treatments may make vasectomy reversal unnecessary.
Review your medical records.
Determine if you are healthy enough to undergo anesthesia and sedation.
Inspect your genitalia to look for any abnormalities and check for the presence of a sperm granuloma, which is a raised bump along the vas that indicates fluid and sperm are present on the testicular side of the vas deferens.
Based on the data he gathers during this consultation, Dr. Lipshultz will make a treatment recommendation.
Step Two: Your Procedure
If, like most men, the testicular side of your vas deferens contains sperm and fluid even after it has been incised and separated, Dr. Lipshultz can restore your fertility with microsurgical vasovasostomy. This procedure is very specialized, precise, and has about a 90 percent success rate. During this surgery, Dr. Lipshultz will use microscopic sutures and special instruments to reconnect vas deferens.
For patients with little or no sperm present in the testicular side of the vas deferens, Dr. Lipshultz will need to perform microsurgical epididymovasostomy. This surgery is often required if there is an obstruction beyond the vas deferens. It involves connecting the abdominal side of the vas deferens to the epididymis, a sperm duct on the back of the testicle, using microscopic sutures. Epididymovasostomy has about a 65 percent success rate.
Vasectomy reversal surgery takes between two and three hours to complete. You will need to remain at our day surgery unit for several hours after surgery while you recover from anesthesia. Once you can move and walk comfortably, you will can return home with a friend or family member. You will not be able to drive yourself if you have undergone anesthesia or sedation.
Step Three: Recovering From Vasectomy Reversal
Most patients recover quickly and easily from vasectomy reversal. You should plan on resting and healing for two to three days after your surgery. Five to seven days after your procedure, you should be able to resume all non-strenuous work activities. About two weeks after your vasectomy reversal, we will see you for a check-up to monitor your healing. Two weeks after your surgery, you can begin having sexual intercourse and resume activities such as jogging and weightlifting. About two months after vasectomy reversal, we will begin semen analysis testing to determine if your procedure was successful.
Contact Us Today
Before moving ahead with treatment, Dr. Lipshultz will make sure that you have a thorough understanding of the vasectomy reversal timeline. We want you to have realistic expectations for treatment, and will provide you with all of the information you need to make an educated decision. We invite you to schedule a consultation today.