Meet Male Infertility Specialist Dr. Larry Lipshultz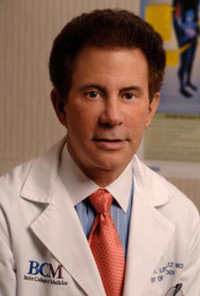 Dr. Larry Lipshultz is male infertility specialist practicing in Houston. He is recognized as a world-renowned expert in male reproductive medicine and microsurgery for the past 20 years. A pioneer in urological microsurgery, he has performed over 2,000 vasectomy reversals in his Houston, Texas clinic at Baylor College of Medicine. In addition, people come from all over the United States and the world to receive treatment for male reproductive health issues.
Dr. Lipshultz is Professor of Urology and Chief of the Division of Male Reproductive Medicine and Surgery at the Baylor College of Medicine in Houston, Texas. He is a popular teacher and has trained more than 40 fellows now in practice throughout the U.S.
Active in numerous scientific organizations, Dr. Lipshultz was a founder of the Society for the Study of Male Reproduction and is a Past President of the American Society for Reproductive Medicine. Dr. Lipshultz, who was the first AUA Research scholar, also served on the FDA Advisory Committee for Reproductive Health Drugs and was awarded the prestigious Hugh Hampton Young Award at the 2005 AUA Annual Meeting held in San Antonio, Texas. Dr. Lipshultz has received numerous clinical awards and honors throughout his career. To schedule a consultation with male infertility specialist Larry Lipshultz, contact our Houston office today.
A well-known author, editor, and lecturer, Dr. Lipshultz has been an innovator in medical research and communication and currently serves on the editorial boards of numerous scientific journals in print and online. His text Urology and the Primary Care Practitioner has been published in three languages and the text Infertility in the Male appeared in four editions with the most recent published in 2009. Learn more about Dr. Lipshultz's research.
CURRICULUM VITAE
Larry I. Lipshultz, M.D., is Professor of Urology in the Scott Department of Urology and Chief of the Division of Male Reproductive Medicine and Surgery at Baylor College of Medicine, where he also holds the Lester and Sue Smith Chair in Reproductive Medicine. After graduating from Franklin and Marshall College in Pennsylvania, he earned his M.D. degree and completed residency training at the University of Pennsylvania. He joined the Baylor faculty as a full professor after completing a two-year fellowship in male reproductive medicine at the University of Texas Medical School at Houston.
View Dr. Lipshultz's complete Curriculum Vitae [PDF].
Learn about Dr. Lipshultz's awards and honors.
DR. LIPSHULTZ'S RESEARCH
Dr. Lipshultz has been the principal investigator, lead author, and/or contributing author of hundreds of peer-reviewed research studies, scientific abstracts, book chapters, videos, and newsletters. Results of his research and his clinical trials have been reported in the Journal of Urology, Medical Clinics of North America, Fertility and Sterility, Urology, and many other top-tier medical journals. Dr. Lipshultz is a member of the editorial board and/or a consulting editor for more than 20 medical journals, includingBJU International, Urology, Current Urology Reports, National Journal of Andrology, and Contemporary Urology.
IN THE MEDIA
As a well-known male infertility specialist, Dr. Lipshultz has appeared in several acclaimed publications, including GQ, Esquire, Men's Health, People, Rosie, AARP, CHILD Magazine, and the Wall Street Journal. Television appearances have included 20/20, Good Morning America, and Houston, Texas News Channels 2 KPRC, 11 KHOU, 13 KTRK. As a vasectomy reversal specialist, he participated in a live chat on ABCNews.com. Here you will find recent articles, videos, and presentations featuring Dr. Lipshultz related to men's reproductive health issues.
Television Appearances
Publications
Niacin an Erectile Dysfunction Cure? – NY Daily News
The Secret to Lifelong Fertility – Men's Health Magazine
Are Men Oblivious about STDs? – Men's Health Magazine
His book: "Infertility in the Male" is available at Amazon.com. Contact our Houston office to schedule an appointment with male infertility specialist Larry Lipshultz.