Vasectomy Reversal Success Stories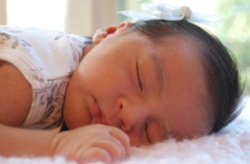 Dr. Larry Lipshultz has helped many men achieve vasectomy reversal success at his Houston practice. Here are some of their stories:
Dear Dr. Lipshultz,
Only 6 months after my vasectomy reversal my wife became pregnant. Our daughter was born on January 9th, 2011. I cannot begin to tell you the joy you have brought into our lives. I thought it would take years! Short of a miracle if you ask me.
Words cannot express our gratitude.
God bless,
The Ortiz Family
---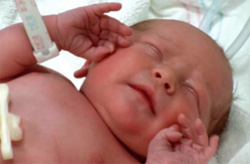 Dr. Lipshultz and staff!
We were absolutely thrilled to welcome our beautiful, sweet, bouncy baby boy, Austin Rhett Carder, to this crazy world on Tuesday, May 3, 2011 at 9:04 AM. Weighing in at 6 pounds, 9 ounces and 19.5 inches long, we could not be more proud and excited to have a perfect, healthy, baby boy. We wanted to share this success story with you all and say from the bottom of our hearts how much we appreciate and thank you. We will be bringing the little guy by to meet the awesome people who made his life possible. We will forever be grateful to all of you!
THANK YOU!
Doni and Eddy Carder
---
Dear Dr. Lipshultz,
We've been meaning to contact you to let you know that we have a beautiful boy thanks to you!
In January 2009 you performed a vasectomy reversal on my husband after 15 years. It was a great success! We got pregnant in May of the same year and nine months later in February 2010 we welcomed a beautiful and healthy baby boy.
Thank you so much for everything. You have completely changed our lives for the better.
Mary and Chan
---
Dear Dr. Lipshultz,
I was your patient in January of 2008 for a vasectomy reversal. My wife and I were married a little over a year later in February of 2009. She became pregnant just 3 months after stopping oral contraceptives.
On Saturday, September 18, 2010, our first child, Vincent Michael, was born at 1:29 P.M. He was 8 pounds 4 ounces and 20 inches big, and very healthy.
We cannot say "thank you" enough for the amazing work you do.
John and Raquel Feagins
San Antonio, TX
Contact our Houston practice to learn how you can achieve vasectomy reversal success.
---
Dear Dr. Lipshultz,
My vasectomy reversal was done in November 2008 and was a success. Seven months later my wife conceived and we welcomed our new daughter on February 26, 2010. We now have five daughters and would like to thank you and your staff for doing your work so well. Although there are nine years between our two youngest daughters, we are very happy with our decision regarding the reversal and feel truly blessed to have a large family. I have attached a photo to place on your bulletin board showing all the success stories. Thanks again, we were very pleased with your services.
Sincerely,
Baxter Saucier and Family
---
Dr. Lipshultz,
I'm writing to thank you for your professional care during my vasovasostomy redo at the end of December, 2009. Fourteen years after my vasectomy and four years after a botched "fix" in Shreveport, you and your staff corrected me successfully.
Three months after the surgery, we were pregnant! On December 22, 2010, we received the best Christmas gift ever. Ian Montgomery Williams was 6 pounds, 2 ounces and full of life. Our lives will never be the same. We are hoping to add two more to our family in the next few years. Thanks again for the professional care and advice. I would recommend you to anyone needing this procedure, and advise they follow your recommendations completely. God bless you all!
Sincerely,
Darrell and Jenny Williams
Texarkana, Texas
---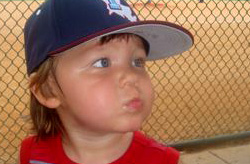 Dr. Lipshultz,
Just wanted to add another success story to your testimonials! My husband received his reversal in February of '06 (it was a Christmas present "to" me). We were pregnant by September of that year, and our precious baby, Baxley Fisher Young ("Bax" for short) was born on June 25th, 2007. He is healthy, beautiful, happy, FULL of life, and a complete blessing to us!
Thank you again for our gift!
Stacy and Tina Y.
West Monroe, LA
---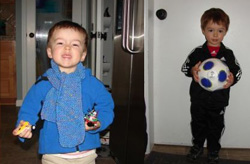 February 2009
Larry – well, WOW! Finally all the pieces fell together and I am able to let you know that you can add one more fantastic baby boy to your statistics! I tell people our story and am never in the place to write you a note. Things get a little hectic around here. Anyway, he was born October 16, 2005. My husband David received a vasectomy reversal from you in December of 2001. We tried for years to get pregnant, did IVF 3x and nothing. We had really given up. Then we had an adoption of a little girl fall into our laps. We had the adoption confirmed in January 2005 and in February 2005 I found out I was pregnant. Our daughter was born May 5 and then I gave birth in October. A good tax year for us! I have included his picture so you can appreciate the miracle even more. He is a wonderful boy, perfect in every way. Thanks for the good work that you do! We are so blessed.
Love,
David and Julie and JOSHUA!!
---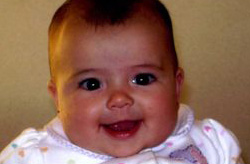 January 2009
Dear Dr. Lipshultz,
This letter is long overdue...but for a very happy reason. My wife and I would like to express our heartfelt appreciation for the efforts you made and the applications of your considerable skills on my behalf in reversing my previous vasectomy. We knew the prognosis was not good, and that the chances of success were small, but you agreed to our wishes, and proceeded with the surgery in April of 2007. You fully explained what we could expect in terms of a timeline, and we complied with all the steps along the post-surgical way. We were ecstatic to learn in May of 2007 that the surgery was successful, and that I was one again delivering viable "swimmers"!
We immediately set to the "task" of achieving the end goal, and exactly on your predicted timeline under the scenario of "if all goes well", we conceived in September of 2007!
We are very pleased to include a picture of the resulting healthy birth of a very happy and low maintenance baby girl, Elizabeth Faima, who came into this world at 7 lbs, 2 ounces on June 7, 2008. She has been a bright beam of sunshine in our lives, and we are enjoying every minute with her.
Words are a poor conveyance of the gratitude we feel, but please accept them with the knowledge that you have made us very happy as a result of your outstanding skills and diligence.
Warmest regards,
Jim and Aybike
---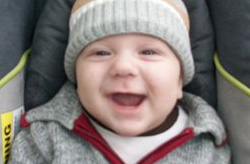 December 2008
Hello Dr. Lipshultz,
Susie and I would like to say "Thank You"! Only eight weeks after you performed my vasectomy reversal surgery we where able to conceive our third child. Sawyer is now three months old and is truly a blessing
Thanks again!
Matt P.
CBS Radio Houston
SportsRadio 610 - CNN 650 Radio News
Houston Texans Radio Network - Rockets Radio Network
---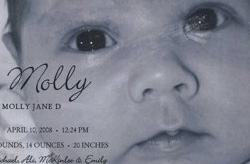 June 2008
Dear Dr. Lipshultz,
We thought you might like to see our newest love. We welcomed Molly Jane on April 10th. In January of 2005, you performed a vasectomy reversal on my husband, Michael. We were pregnant by April and had our daughter Emily in December. 2005 was a great year!
We started trying again in July of 2007 and got pregnant that month. We had no idea the reversal would work so well!!
Thank you so much for all you have done for us. Our lives wouldn't be the same without our girls. You have helped make these little miracles possible.
Sincerely,
Ali D.
---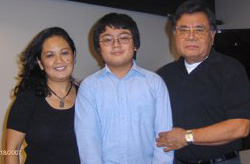 June 2008
Dear Dr. Lipshutltz:
In 1994, you did a vasovasostomy on my husband Sam,16 years after his vasectomy. Forty-five days after the procedure, I got pregnant. As a fruit of that pregnancy, I bore a son, Ryan. He is now 13 years old. He is smart and talented beyond what we had prayed for. He is in the gifted program in school. At 8 years old, he obtained his black belt in karate. He has been in the national competition and has won medals plus several state and local competitions. He also plays a mean game of golf. He has since shifted to music. In less than four years since he started his piano and has won piano competitions and the acclaim of music teachers and judges. He will be performing his first solo piano recital at the Arizona State University School of Music Recital Hall this on June 28, 2008 playing college level pieces.
Thank you very much. My husband and I cannot imagine life without him.
Carmen B.
---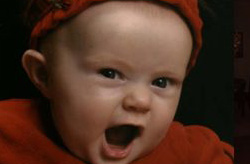 January 2008
Dear Dr. Lipshultz
You did a reversal on my husband (Charles Y.) in January 2003 after he had a vasectomy about 12 years before. We tried and tried for a baby for about a year; we tried IUI and were told we would never conceive because my husband's sperm were covered 100% in Antisperm Antibodies. The doctors in San Antonio told us our only hope was in vitro which we could not afford. I had not tracked my ovulation in 2 years, but God had plans for us and we conceived on Thanksgiving Day 2006. We now have a beautiful & healthy little girl born August 7, 2007. Madison Lea York is almost 5 months and is our miracle from heaven. My husband and I are blessed and grateful for her after everything we have endured. We Thank You and God. May God bless you always.
Love,
The York Family
---
December 2007
You can add another one to your scoreboard. You really are incredible Dr. L. We were pregnant just 4 months after the reversal. Thank you for helping to facilitate a miracle!
Joe and Jocelyn T.
Reversal 5/16/07 due 6/18/08
---
October 2007
This is just a letter of thank you. My husband (Donnie Dotson) and I came to see you after seeing MANY Doctors in the New Orleans area. And the first day we came to your office you did a total check up on my husband and pin pointed the problem. That it was a vein problem. This was in one visit! My husband had the surgery and you said give it about 3 months. Well guess what? We got pregnant right on time 3 months after the surgery. I am now 7 months. (After 5 years of trying and going to many doctors that said there was NO hope other than in vitro). So, I want to thank you for making us whole again after being broken by so many other doctors. Thank you and may God bless you and yours.
The Dotson Family
---
May 2007
Dr. Lipshultz,
This thank you is long overdue, but we have had our hands full the last 17 months. On January 13, 2005, you performed a vasectomy reversal on my husband, Michael. We found out that we were pregnant on April 26, 2005. 3 months!! I never dreamed that it would happen so quickly. Our sweet Emily Ann was born on December 16, 2005. She is now a very busy, talkative 17 month old. She is absolutely the light of our lives. We can never express how grateful we are to you for what you have done for us. God bless you.
Ali, Michael and Emily Ann
---
May 2006
Dr. Lipshultz,
Sam was born October 25, 2005. You performed my husband's vasectomy reversal on November 11, 2003. I cannot even imagine life without our son. Thank you doctor. God has graced your hands.
Sincerely,
Chris Kipling
---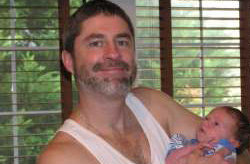 April 2006
Dr. Lipshultz,
You did my vasectomy reversal last June, and told me to wait two weeks. We waited two weeks, and conceived on our FIRST TRY!! We could hardly believe it. Daniel Ren Kent was born on March 19, and is healthy, happy and growing.
We thank you for the perfect job you did. We're glad we chose the best man for the job - you!
Michael and Susan Kent
---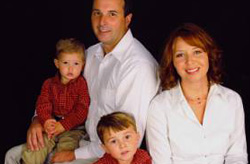 March 2006
Dear Dr. Lipshultz,
You performed a vasovasostomy on my husband, Eric Winkler, about 4 1/2 years ago. We conceived our first son, Chase, a little more than a year later. We called your office to thank you but never sent a "Thank You" via mail or e-mail. Chase is a healthy 3 1/2 year old. We have Dylan who turned 2 in January & are expecting our third child this July. We often joke around saying, "whatever Dr. Lipshultz did, we don't know how to turn it off!" You are a fantastic surgeon & we appreciate what you did for us. You gave us a family & we can't thank you enough. Keep up the good work.
Sincerely,
Eric, Tammy, Chase & Dylan Winkler
Austin, TX
---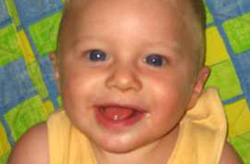 July 2005
Dear Dr. Lipshultz,
Better late than never I always say. You did my reversal back in October of 2003 and finally, our miracle baby has arrived. Connor Jackson Bell arrived healthy and happy on December 6, 2004. We are so happy and thankful. Connor is beautiful in all ways and we can't get enough of him. Now, at 7 months old, Connor is crawling and pulling himself up on everything. We're hoping number two won't be far away!
Thank you very much for helping us to finally have that child we've wanted for so long. After three unsuccessful in vitro attempts, it came down to reconnecting the plumbing and you certainly were the person to do it. Thank you, thank you, thank you for your skilled hands. Connor is such a blessing.
I should mention that it had been 22 years since my vasectomy when you performed the reversal. That is certainly a testament to you and your practice.
Forever Grateful,
Dave & Vonnie Bell
---
April 2005
Doc,
We discovered on Wednesday morning that my wife, Ali, is pregnant. I was hoping to have more practice! :) She confirmed at the doctor's office that morning and they set a date of January 1.
Your efforts have given another family a blessing. Your success rate gets another notch in the win column.
Michael D.
---
April 2005
We are so happy and grateful to you Dr. We are 12 weeks pregnant and all is well. Hopefully you received our thank you card with the ultrasound attached in the mail. You have made us the happiest people in the world.
Most appreciatively,
Douglas and Christine Kipling
---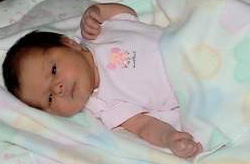 July 2004
Dear Dr. Lipshultz,
Susan and I just wanted to share this picture of our new baby girl. After a botched reversal attempt by another doctor we were afraid our chances were over. Thanks to your skill and your excellent team of assistants we can now hold our little miracle. Thanks for everything!
Ken & Susan
---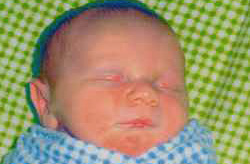 August 2004
Dr. Lipshultz,
Just a note to let you know you can add us to your list of successes. You did a reversal on me last spring, roughly 14 years after my vasectomy. On June 3rd 2004, Allison Susanne Ball arrived. She's healthy and doing well. Okay, so how do you turn this thing off? Ha ha. You are truly a skilled surgeon - THE BEST.
Thank you.
Wes and Suzanne Ball
---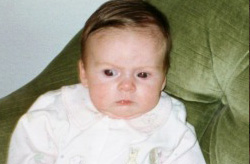 October 8, 2000
My wife and I wanted to send you thanks for your excellent work with my vasectomy reversal. The story can be told in the attached picture, she is now 3.5 months old although the picture was taken at 6 weeks of age.
Once again, thank you for your efforts.
Rafaela & Dave (& Cristina) Brown
---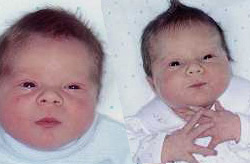 May 2000
Dr. Lipshultz,
The operation was definitely a success!
The Bardens
---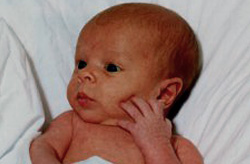 January 5, 2000
Dear Dr. Lipshultz,
Bob and I would like to thank you! Bob had surgery in August 1998 and as you predicted we became pregnant in March 1999. As you can see we had a son on Dec. 29, 1999. We are very grateful and appreciated your help.
Sincerely,
Nelly and Bob Brierty
---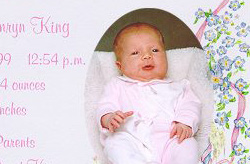 November 27, 1999
Hello, Dr. Lipshultz:
As you know by now, Janet and I are the proud parents of Rachel Camryn King! She was born in Little Rock on September 25, 1999. She is an absolute angel and a dream come true! We both believe that she is a miracle! When we think of the obstacles that were ahead of us, we truly believe we have been blessed! Of course, without your help, we would not have her today. I really never thought I could have children again since my vasectomy was done in 1981. Doctors here in Little Rock told us that our chances were very slim. And, if we wanted to go forward, then only one person could give us the best opportunity for success: you.
Thanks again for putting your skills and talent to work for us. We shall never forget you and your fine staff!
Mack & Janet King
Benton, Arkansas
---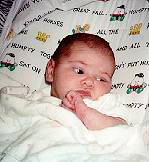 September 28, 1999
Dear Dr. Lipshultz,
On August 27, 1999, my wife and I were blessed with the birth of our daughter Lauren. Lauren is both a miracle and a tribute to your abilities. In October 1974, I underwent a successful vasectomy. In December 1997, you performed an epididymovasostomy and the rest is history. I can't thank you and your staff enough. Enclosed is a picture of our special angel to be added to your collection. If you even need a testimonial, please feel free to call on me. Again my wife and I thank you from the bottom of our hearts.
Sincerely,
Wayne E. Kessler
We can help you achieve vasectomy reversal success. Contact our Houston practice to learn more.