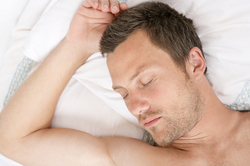 Patients from San Antonio and other major cities throughout Texas visit Dr. Larry Lipshultz's practice in Houston because of his solid reputation for quality care. As a leading men's health specialist, he has helped numerous patients through vasectomy reversal surgery to restore a man's fertility and various treatment options for erectile dysfunction.
A number of patients have asked about healing times and other issues related to the vasectomy reversal healing process. Let's cover some of these matters right now.
How much time does it take to heal after a vasectomy reversal?
Full healing after vasectomy reversal can take several weeks depending on the patient. This means full recovery and the ability to return to normal activities as before. In most cases, patients will be able to return to most normal activities by the end of a month, but they should proceed with caution as they heal in order to prevent potential complications.
In order to heal quickly and prevent complications, it's important that patients follow their post-operative instructions for vasectomy reversal recovery. Detailed instructions will be given during the consultation process.
Is there a general timeline for vasectomy reversal healing?
The general healing timeleine for vasectomy reversal is as follows:
Soreness, grogginess, bruising, and swelling in the first few days; ample rest and likely wearing of a support garment
Improvement of side effects by the end of the first week; a follow-up appointment to monitor recovery should take place around this time
Patients return to work by a week to a week-and-a-half after surgery depending on job duties and the industry they work in
Patients can engage in sexual activity roughly three weeks after surgery, though should note that ejaculation may be painful
Patients can engage in strenuous physical activities again after about four or five weeks, though they should still be wary about heavy lifting
Semen analysis performed after six weeks to see if sperm has successfully returned to the patient's ejaculate
We've previously outlined a general recovery timeline for vasectomy reversal patients, and we encourage you to give that previous post a read in order to learn more about the healing process and what you can expect. We also suggest reading about the side effects of vasectomy reversal surgery to ensure you have realistic expectations about the process.
How long after vasectomy reversal can I resume sexual intercourse?
As noted above, patients can return to sexual activity after about three weeks, but pain may occur during ejaculation. We advise patients to take things slowly and to acknowledge that their body needs to heal. Usually by the end of a month to five weeks, patients will be able to have intercourse again without experiencing major discomfort.
How long will it take after vasectomy reversal before my partner becomes pregnant?
This can take some time. Usually men achieve patency (sperm present in semen) by around the three month mark, though it can happen sooner. It can take several months for optimal patency to be achieved, so please keep this in mind.
We've recently written about how soon after vasectomy reversal patients can get their partners pregnant. Feel free to read that previous blog post for more detailed information about these matters.
Other Matters to Consider with Vasectomy Reversal Healing Times
Healing is a process and it varies from patient to patient. Try not to push yourself too hard and be sure to follow all post-op instructions and advice from Dr. Lipshultz to the letter. If you have any concerns about healing and recovery at any time, be sure to contact the practice right away so your concerns can be addressed as soon as possible.
Schedule a Consultation with Dr. Larry Lipshultz
For more information about vasectomy reversal and how it can help you conceive children naturally again, be sure to contact our urology and men's health center today. Dr. Larry Lipshultz and the entire team here are eager to discuss all of your concerns with you in greater detail.