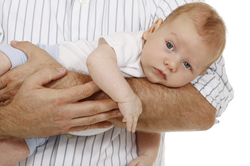 When patients visit the Houston men's health center of Dr. Larry Lipshultz, they can expect detailed answers to their questions. Whether you're wondering about treating erectile dysfunction or the success rates and effectiveness of vasectomy reversal surgery, we will provide you with the information that you need to make a good decision about your options.
Many patients have questions about how soon they can expect to see results (i.e., successful pregnancy) after vasectomy reversal. We want to go over the some factors that can affect the timeframe of vasectomy reversal success right now.
When to Resume Sexual Intercourse After Vasectomy Reversal Surgery
First of all, it's important to consider when you can resume sexual intercourse after vasectomy reversal has been performed. Generally, surgeons recommend waiting two to three weeks before attempting to have intercourse again. This provides the minimum amount of time for you to heal from surgery. It may be helpful to wait longer if you notice discomfort when you have an erection or when engaged in other activities.
The best advice is to take time and not rush things. Intercourse may be uncomfortable for the first few weeks, so please keep that in mind.
Results Are Not Always Immediate
Some couples have success with conceiving earlier than others, and there are many factors that can affect this.
For one, in can take a few months for sperm to return to a man's semen. This is known as patency. Generally, 95% of men who undergo a vasectomy will achieve patency at some point after surgery; up to 80% of men will achieve patency within three months of the vasectomy reversal.
In addition, if the vasectomy reversal was performed several years after the initial vasectomy, the likelihood of successful reversal is less likely. This can be discussed during the consultation process.
There are also issues of timing, and couples needing to plan when to have intercourse in order for perfect timing to increase success. Overall, successful pregnancy rates after vasectomy reversal are greater than 50%.
Semen Analysis and Other Testing to Consider
If it has been a few months and patients have been unable to get their partner pregnant, undergoing semen analysis and sperm testing are both good ideas. These procedures will take a semen sample and examine the amount and quality of the sperm that is present. Tests may be taken periodically in order to assess healing, patency, and overall success of the vastectomy reversal.
Successful Vasectomy Reversal Is Not a Guarantee of Success
Even if a man achieves patency and experiences no serious complications following vasectomy reversal, that is not a guarantee that the procedure will result in the birth of a child. As we noted above, timing and other factors involving a man's partner can mean difficulties with pregnancy. After trying to conceive for a year without success, it's generally a good time to consider your alternatives, such as adoption, in vitro fertilization (IVF), various techniques for sperm aspiration, and so forth.
Weighing All of Your Options to Start a Family
Dr. Lipshultz will be more than happy to go over all of your options for care in greater detail. These choices should be made with confidence and proper understanding, and we will be more than happy to answer all of your questions and address all of your concerns about the various options for starting a family that are available to you.
Speak with Dr. Larry Lipshultz About Your Treatment Options
For more information about vasectomy reversal and how our team can help you start the family that you have always wanted, be sure to contact our men's health and urology center today. Dr. Larry Lipshultz and the entire team here looks forward to meeting you in person and helping you achieve the best possible treatment results.