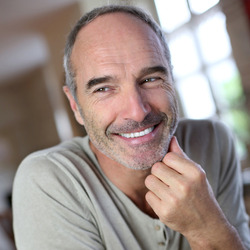 Based in Houston but serving patients from throughout the state, Dr. Larry Lipshultz has built a strong reputation for high-quality care. The reason that patients from Dallas and other cities around the state come to Dr. Lipshultz for help is his commitment to patient education and detailed consultations. These are particularly helpful when a man is considering vasectomy reversal surgery, a procedure that restores male fertility.
Just yesterday we looked at a few matters to consider for men in their 40s who want to undergo vasectomy reversal surgery. Today, we want to look at factors that may affect men in their 50s who would like to undergo the procedure.
How Vasectomy Reversal Works
As we previously noted, vasectomy reversal is a procedure that restores a man's ability to father children through intercourse. It undoes the initial vasectomy surgery and allows sperm to be present in a man's semen when he ejaculates.
The Effectiveness of Vasectomy Reversal in Your 50s
As with vasectomy reversal at any age, one of the primary factors that determines the effectiveness of the procedure is when the initial vasectomy was performed. If the vasectomy reversal is performed within three years of the initial vasectomy, the chances of success are rather high. If the vasectomy was performed more than 10 years prior to a reversal surgery, the chances of success are much lower.
Dr. Lipshultz will note your medical history to determine the potential success rate of vasectomy reversal surgery.
Other Factors That Can Make Natural Conception Difficult
As we noted yesterday, there are many other factors that can affect the success of a vasectomy reversal, and issues of age are chief among them.
As men reach middle age, they will usually noticed drops in their testosterone levels. This can affect sexual arousal and impair ability to achieve/maintain an erection (erectile dysfunction). In addition, the lower testosterone will often lead to lower sperm count. The quality of the sperm can be affected as well, with some studies showing greater DNA fragmentation and increased chances of birth defects.
Since it takes two to tango, it's also important to consider fertility issues that affect a man's partner. A combination of male fertility problems and female infertility problems can lead to greater difficulty starting a family, and that's not even taking into account the success of the vasectomy reversal.
Alternatives to Vasectomy Reversal for Men in Their 50s
Given the various issues that can affect the success of a vasectomy reversal, it's important for men in their 50s to keep alternative treatments in mind. This includes the use of assisted reproduction techniques, such as in vitro fertilization (IVF) and sperm donors. Another option to keep in mind is adoption since so many children in the world are without a family of their own.
Helping You Make the Best Decision
During your consultation with Dr. Lipshultz, we will be sure to go over all of your options in full detail so that you can make the smartest possible decision with it comes to starting your own family. We will make sure you have all the info you need to make smart decisions with your partner.
Schedule a Consultation at Our Men's Health Center
If you would like more information on vasectomy reversal as well as other options for starting a family in your 50s, be sure to contact our men's health medical center today. When you discuss these matters with Dr. Lipshultz, you will receive detailed answers that will help you make a smart decision about the various options available to you.