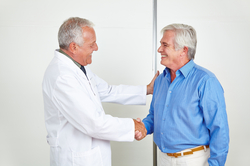 As one of the world's foremost masters of microsurgical techniques, urologist Larry Lipshultz is one of the most sought-after vasectomy reversal specialists in the United States. He realizes, however, that not everyone who would benefit from visiting his practice for vasectomy reversal is in the position to do so. Therefore, he has prepared a series of questions that men can ask their local urologists in order to determine whether they are qualified to perform their vasectomy reversal procedures.
Remember, you are entrusting the future of your potential family to whichever surgeon you elect to perform your vasectomy reversal. Vasectomy reversal is a delicate procedure that requires specialized skill and extensive experience with advanced microsurgical techniques and technologies. If you cannot travel to San Antonio for your vasectomy reversal, these questions to ask your doctor should help you to find the urologist who is right for you.
A Few Important Questions to Ask Your Urologist
Here are just a few questions you should ask your urologist before committing to undergo vasectomy reversal:
How many vasectomy reversal surgeries have you performed? When it comes to vasectomy reversal, experience is everything. Dr. Lipshultz has performed more than 2,000 vasectomy reversal surgeries and counting throughout the course of his more than two-decade career. Your urologist should have performed at least several hundred.
What is your success rate? This is a somewhat tricky question, as any experienced urologist would know. The success of the procedure, regardless of the skill of the surgeon, will depend on the technique that must be performed. If there is no epididymal blockage, a skilled surgeon is able to perform microsurgical vasovasostomy; however, if blockage is present, then epididymovasostomy must be performed. When performing vasovasostomy, more than 90 percent of Dr. Lipshultz's patients have demonstrated a return of sperm, with an attendant pregnancy rate of approximately 70 percent. In the case of epididymovasostomy, about 65 percent of Dr. Lipshultz's patients have demonstrated a return of sperm, with a pregnancy rate of approximately 50 percent.
Are you certified by the American Board of Urology? The answer to this question should be an absolute "yes." Dr. Lipshultz has been certified by this prestigious board since 1977, as well as by the American College of Surgeons since 1979.
Are you a member of the American Society for Reproductive Medicine? Again, the answer to this question should be "yes." Dr. Lipshultz is not only a member of this renowned organization, but also a past president.
What is your education and training background? Your urologist should be able to provide you not only with information regarding his or her medical degree (a given), but his or her post-graduate specialty training and fellowships. Dr. Lipshultz completed his fellowship training at the University of Pennsylvania, Philadelphia, before becoming an instructor at the university in 1973. He is currently professor of urology and chief of the division of male reproductive medicine and surgery at the Baylor College of Medicine in Houston, Texas, where he has trained more than 40 fellows now in practice throughout the country.
Contact Dr. Larry Lipshultz Today
To schedule your initial appointment with Dr. Larry Lipshultz, please contact our urology practice today.